As a 9100C certified company, in a structured manner we have taken pains to design quality processes in each and every job that we do. However we firmly believe that Quality is an individual mindset and a part of the culture of the organization.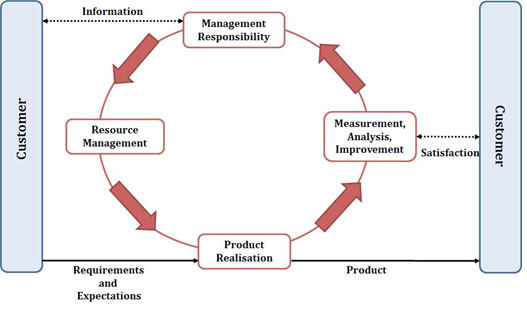 At Elcom Innovations, we believe that Quality is evaluated by our customer and determined by our ability to meet the customers' expectations. Our goal is satisfied customers. To satisfy a customer, we must assure that our performance is at least what he expects. In order to meet our customer's expectations, EI has an established, documented, implemented, and maintained a QMS designed to continually improve its effectiveness in accordance with the requirements of in accordance with ISO 9000:2008 and AS9100C:2009. The processes that control quality at EI are illustrated in Figure below. This process based approach of the QMS illustrates the process linkages presented in ISO 9001:2008 / AS9100C:2009 Clauses 4 through 8. This model illustrates thesignificant role of the customer in defining requirements as inputs, how monitoring customer satisfaction requires the evaluation of information relating to customer perception as to whether EI has met the customer requirements, and how this process based approach model drives EI's continual improvement efforts..
We also realize that in todays fast moving and cut throat time lines our processes should not slow us down and organization does not lose its nimble character. All our processes ensure time lines are adhered to and un-necessary bureaucracy is avoided at all costs.