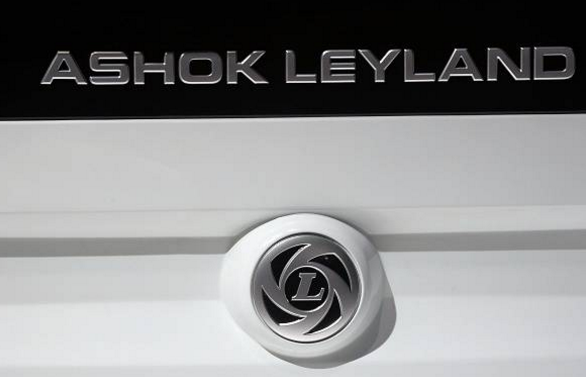 Ashok Leyland Defence Systems inks MoU with Rosoboronexport, Elcom Group
Ashok Leyland Managing Director Vinod K Dasari said that the new partnership allows Ashok Leyland to provide all types of tracked vehicle solutions to the armed forces.
Chennai: Commercial vehicle maker Ashok Leyland Ltd on Wednesday said that its defence wing Ashok Leyland Defence Systems has signed an MoU on cooperation with Russia's Rosoboronexport and Elcom Group of India.
The MoU was signed on the sidelines of the International Military Technical Forum Army-2017 held at Kubinka near Moscow on August 25.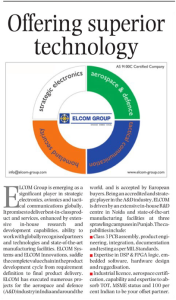 Offering Superior Technology
9 – Feb – 2014
ELCOM Group is emerging as a significant player in strategic electronics, avionics and tactical communication globally. It promises to deliver best in class product and services, enhanced by extensive in-house research and development capabilities, ability to work with globally…
ISRAEL AEROSPACE INDUSTRIES SIGNS A STRATEGIC TEAMING AGREEMENT FOR INDUSTRIAL COOPERATION FOR UAV SYSTEMS WITH DYNAMATIC TECHNOLOGIES AND ELCOM SYSTEMS IN INDIA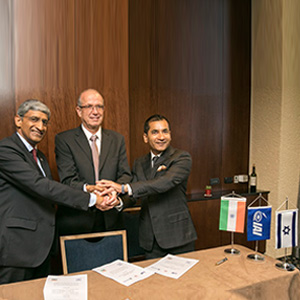 Israel Aerospace Industries Ltd. (IAI), Dynamatic Technologies Ltd (DTL) and Elcom Systems Private Limited have announced today their cooperation to jointly address the needs of the Indian UAV market. This announcement followed the signing by the companies of a teaming agreement regarding the production, assembly and support of UAVs in India, during the visit of India's Prime Minister Modi to Israel.
The cooperation agreement supports the existing infrastructure in India for current MRO (Maintenance Repair and Overhaul) programs, while advancing the Indian government's "Make in India" initiative as well. The cooperation between the three companies will provide the best solution for the Indian armed forces, based on the transfer of state of the art UAV technology and production capabilities from IAI to DTL and Elcom, in order to enable indigenous capability for UAV systems.
This agreement builds on the close long term relationship between IAI and the Indian government. For 25 years, IAI has been working hand-in-hand with the Indian Government and its military services to supply them with its state-of-the-art UAV systems and technologies to their utmost satisfaction. IAI has been able to build a robust customer support infrastructure over the years, through the support of many high-end local Indian partners. The new strategic collaboration with DTL and Elcom builds on this capability. The combination of DTL's superior aerospace production technologies and experience with UAVs in India, Elcom's technology platforms in the fields of electronics and communications, and IAI's world class UAV technologies and experience will undoubtedly ensure that the Indian customer receives state of the art, high quality UAV systems and services.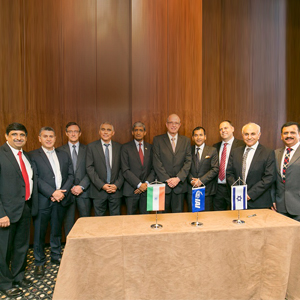 Shaul Shahar, IAI Executive Vice President and General Manager of IAI's Military Aircraft Group: "India is one of IAI's main strategic customers for 25 years; hence our relationship with Indian users, customers, and companies is crucial. It is, therefore, our intention to transfer a significant part of our UAV activity to India in the near future, in accordance with the "Make in India" policy. We are delighted to expand our partnership with Dynamatic and welcome our new partner Elcom and jointly offer best-of-breed solutions for India."
Mr. Udayant Malhoutra, CEO & Managing Director Dynamatic Technologies: "This cooperation agreement with IAI for local manufacture and assembly of Medium Altitude Long Endurance ( MALE) UAVs will support Dynamatic's vision of establishing a world class UAV enterprise in India. Dynamatic and IAI have already partnered earlier this year for the manufacture of Mini UAVs under the Indian government's 'Make in India' initiative. Dynamatic has a proven track record of indigenization of strategic manufacturing in sectors like Aerospace and Defence, and this partnership is a convergence of technology, manufacturing excellence, and local skill-building, which is going to be the key driver for 'Make in India' to succeed."
Mr. Shiv Vikram Khemka, Elcom Systems Private Ltd.: "Elcom Systems is delighted to be able to partner with Israel Aerospace Industries and Dynamatic Technologies to offer MRO, Modernization, Upgradation and Training services for India's fleet of IAI produced remote piloted aircraft, that is already in service in India for over two decades. This will allow IAI to further increase the already high serviceability levels for its UAVs, and to further the Government of India's "Make in India" vision. Elcom is eager to offer its capabilities in future programs in India both in the area of MRO and in the manufacturing of electronics systems and sub-systems; areas in which it is an established vendor".
***
Dynamatic Technologies Limited:
Dynamatic Technologies designs and builds high precision systems and sub-systems for Aerospace, Automotive, Hydraulics, and Homeland Security & Defense. With futuristic design and manufacturing facilities in India , Europe and USA, the company is able to meet customer's exacting requirements in 6 continents. Dynamatic has been associated with the Indian Ministry of Defense for over two decades and received awards for indigenization of defense production in the year 2002. Dynamatic has been the developmental partner with DRDO for Lakshya, a pilotless target UAV for which it received a "creative partner" award from the DRDO. Dynamatic Oldland Aerospace is engaged in manufacture of complex assemblies for Hindustan Aeronautics Limited (HAL) as well as Airbus, Boeing and BELL Helicopters.

Elcom Systems Private Limited:
Elcom is engaged in indigenous product development, technology platforms, manufacturing, testing and services in the field of electronics and communications for global and Indian clients including the Indian Ministry of Defense; and is part of an Indian conglomerate of companies which is majority owned by the Khemka family and is engaged in several businesses including, inter alia, information technology, telecommunications, aerospace, real estate, natural resources, renewable energy and investments.