iVIS (Intelligent Vehicle Intercom System) represents a family of next generation intercom systems and components for use in military tactical vehicles (both wheeled and tracked). The system provides intercom services between crew members and vehicle radio systems. The iVIS is a comprehensive solution for in-vehicle voice and data communication, tactical network connectivity and battle management system interoperability.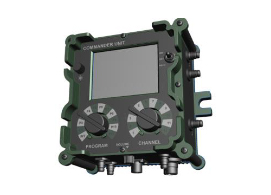 Designed and tested to MIL Standard specifications, the rugged iVIS interoperates with tactical as well as commercial radios. This allows crew members to communicate with dismounted personnel and their vehicles or command centers through HF, VHF, UHF and satellite communications technology. As the iVIS is used in high noise environments it supports Active Noise Reduction (ANR) headsets (both monaural and binaural) and other noise-reduction technologies which ensure clear voice and acoustic protection. It is extremely robust, ruggedized, stand-alone system that can operate under severe environmental conditions and provides high reliability.
iVIS is designed to meet modern communication needs of army vehicle crew. It is best suited for communication needs of all types of light and heavy combat vehicles like Armored Personnel Carriers (APC) and Main Battle Tanks (MBT).